Apparatus: The Art of Scientific Glass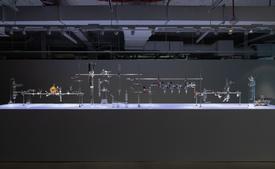 Wednesday, January 2, 2019, 10:00 am until 9:00 pm
647 Fulton Street, Brooklyn, NY 11217
Opening reception: November 14, 6-8pm, curator talk at 6:15pm
Featuring work by: Steve Anderson, Dennis Briening, Tracy Drier, Jim Hodgson, Amy Lemaire, Robert Ponton, Sally Prasch and Michael Souza.
Curated by Glenn Adamson with Dennis Brienning
Scientific glass technologists are among America's most skilled and inventive makers. They work with chemists and engineers to create bespoke pieces of equipment, often to extraordinarily precise tolerances. The techniques that glass technologists use – mainly blowing and flameworking – are similar to those used in other fields of glass art. Yet their work is rarely put in the spotlight. This exhibition will create a platform for their achievements.
Featuring some of America's leading lights of scientific glass, the show will emphasize the "accidental aesthetics" of these objects – the beauty that arises from apparatus made for purposes which are (to most people) completely arcane. Scientific glass may remind visitors of medieval alchemy or science fiction props. It may even look like avant-garde art, as its extreme specificity, oddly enough, produces an aesthetic effect that is not dissimilar from the chance operations of Surrealism and Dada. But it has a logic of its own.
Scientific glass making is a community in its own right, with a particular concentration in nearby Vineland, New Jersey. Despite its cutting-edge applications, the craft has a deep history – glassmakers have been the partners for science for centuries. In the twentieth century, its fortunes have risen and fallen with the need for technical experimentation. Following a decline in the 1980s, with the rise of superconductors and miniaturization, today it is again a trade in demand due to the rise of fiber optics and other glass-oriented technologies. Indeed, there is a shortage of skilled glass technologists nationwide. By featuring this craft at Urban Glass, we hope to bring attention to the field, and also to inspire artists and designers working in other areas of the discipline of glass.
About the curator:
Glenn Adamson is a curator, writer and historian who works at the intersection of craft and contemporary art. Currently Senior Scholar at the Yale Center for British Art, he has previously been Director of the Museum of Arts and Design; Head of Research at the V&A; and Curator at the Chipstone Foundation in Milwaukee. Adamson's publications include Art in the Making (2016, co-authored with Julia Bryan-Wilson); Invention of Craft (2013); Postmodernism: Style and Subversion (2011); The Craft Reader (2010); and Thinking Through Craft (2007). His new book Fewer Better Things: The Hidden Wisdom of Objects will be published by Bloomsbury in August 2018. www.glennadamson.com
About the artists:
Steven Anderson
Steven M. Anderson is currently a Senior Scientific Glassblower in the Division of Engineering at the Mayo Clinic, Rochester, Minnesota. Steven began his education as a scientific glassblower at Salem Community College in 1986, and continued at Greatglas Inc., Wilmington, Delaware (1986 to 1988); Honeywell Inc., Bloomington, Minnesota (1988 to 1989); Aldrich Chemical Co., Milwaukee, Wisconsin (1989 to 1994); and University of Nebraska, Lincoln, Nebraska (1994 to 1999). Steven has been a member of the American Scientific Glassblowing Society (ASGS) since 1987 and a member of the Midwest Section of the ASGS since 1989.
Dennis Briening
Dennis Briening has, for the past 25 years, been a consultant and glass technologist at Ashland Research Center in Wilmington, Delaware, in addition to teaching scientific glass technology and plasma/neon at UrbanGlass, the Studio at the Corning Museum of Glass, and Salem Community College. Dennis graduated from Salem Community College in 1977, and afterwards relocated to Pasadena, California to assist in development of the first laser printer helium cadmium electronic lamps at Xerox Electro Optical Systems, with Robert McQuillan. In 1998 Dennis began as the first coordinator of the Salem Community College scientific glassblowing and art departments, and was Chair of the department since 2009. He has also served as the Director of the American Scientific Glassblowers Society and Chair of the Education Committee. In addition to consulting and teaching, Dennis now enjoys combining scientific glass technology with plasma/neon pieces to document and question early scientific developments.
Tracy Drier
Tracy Drier is currently the research glassblower for the Chemistry Department at the University of Wisconsin in Madison. His fascination with glassblowing began in childhood when his father adopted it as a hobby. He began his career as a paper engineer, but glassblowing was always his first love. Tracy completed the scientific glassblowing program at Salem Community College in New Jersey and has worked in the glass industry for 23 years. In his spare time, Tracy enjoys making glass/multimedia artwork.
James Hodgson
James Hodgson is currently the Senior Scientific Glassblower at Kansas State University in Manhattan, Kansas. He graduated in 1982 from Kansas State University with a degree in Geophysics. He worked in oil exploration for over 10 years before pursuing a second career as a scientific glassblower. He graduated in 1995 from Salem County Community College with an Associate's degree in Scientific Glassblowing. He worked for Aldrich Chemical before accepting a position at his alma mater in July 1996. He has been active in the American Scientific Glassblowers Society, serving as National Treasurer and President.
Amy Lemaire
Posted to: General Events.