From Flame to Furnace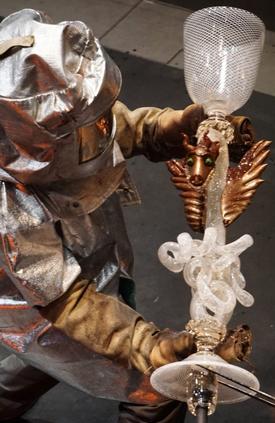 Thursday, September 12, 2019, 9:00 am until 6:00 pm
1201-316th St. NW - Stanwood, WA 98292
FROM FLAME TO FURNACE
Glassblowing, Flameworking, Experimentation, Lathe
Blend the arts of furnace and lampworked glass as you use the torch to form shapes and objects that will be incorporated into hotworked glass over the course of this class. Students will cover fundamental lampworking and furnace glassblowing techniques, pulling and using cane and murrini, drawing with cane, and placing lampworked shapes onto hot glass. Students will also explore the use of scientific glassblowing techniques and the lathe in the Hot Shop. Experimentation and enthusiasm will be greatly encouraged!
A / ALL LEVELS
GEORGE KENNARD & SALLY PRASCH
George Kennard began his tenure at The Studio of The Corning Museum of Glass in 2001 as an instructor, teaching beginning and continuing classes in glassblowing. Kennard enjoys the limitless opportunities for creating with molten glass and prefers making large-scale incalmo pieces. Sally Prasch began her career at the age of thirteen apprenticing for Lloyd Moore and continued her education, receiving a BFA in ceramics and glass, a degree in applied science, and a certificate in scientific glass technology.
Posted to: General Events